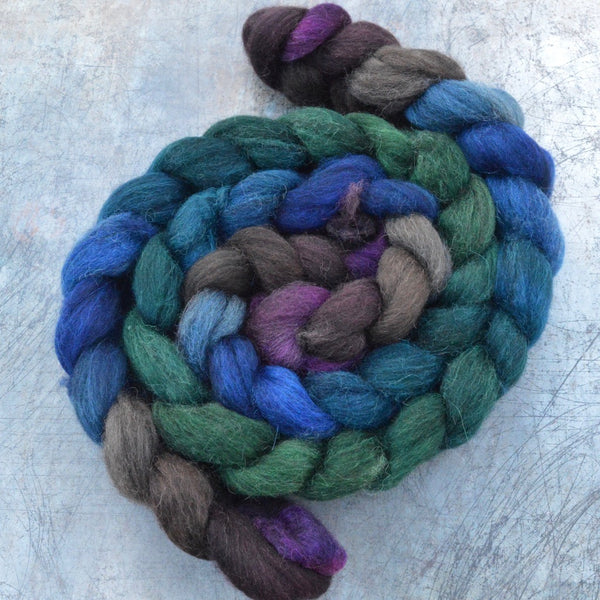 "Patagonia" Spinning Fibre/Fiber ~100g - PT08/01
A blend of Black Welsh Mountain and South American wools with soft alpaca ~ 100g.
This has been mirror gradient dyed so it can easily be spun into a 2-ply gradient yarn.
The bouncy soft blend combines the ruggedness of Welsh wool with the softness of South American merino types. Alpaca adds a drapey lustre and slight halo for a really interesting spin. It is well suited to spinning slightly thicker yarns, great for those who struggle to achieve this with other fibres.
This blend is inspired by the Welsh Patagonian community in Argentina. This blend reflects the best of both cultures and your yarn will be great for garments equally at home on a Welsh Mountain as well as on the pampas!
Each braid weighs approximately 100g (individual braids may vary by a couple of grams each way after dyeing and rinsing)

This wool / alpaca blend is hand dyed with non-toxic acid dyes.


34% Black Welsh Mountain (BWM) wool
33% South American wool
33% Alpaca

This blend is made with natural protein fibres and can felt if not washed with care. Cool hand wash with a suitable detergent for wool/delicate items.
If you'd like to read more about the inspiration behind this blend follow this link to a blog post about it:
For more information on BarberBlackSheep fibres or to show what you've made, why not join my Ravelry group
www.ravelry.com/groups/barberblacksheep